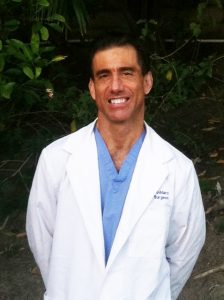 Dr. Sean R. Stoddard is a seasoned podiatric foot & ankle specialist with over 25 years of experience. His goal is to provide exceptional, cutting-edge technology for all foot & ankle conditions.
Dr. Stoddard was born & raised in New York City. He attended Fordham Preparatory High school in NYC, & then completed his undergraduate studies at Holy Cross College in Worcester, Massachusetts, and the City College of New York.
He completed his post-graduate education at the New York College of Podiatric Medicine, where he earned his doctorate degree in podiatric medicine in 1989. His residency training involved rotations at VA hospitals in New York, and Connecticut, along with rotations at West Point Academy.
He is board certified by the American Board of Foot & Ankle Surgeons, and is also currently a Fellow of the American College of Foot & Ankle Surgeons.
He has written medical articles that have been published in peer-reviewed podiatric journals.
He is currently the owner & president of Norcal Foot and Ankle, and has been practicing in Chico, CA. since 2011.
Dr. Stoddard's focus is on managing complicated foot & ankle problems. In the early 2000's he was the first podiatric surgeon in the state of NJ to be trained in total ankle replacements. He was trained & proctored on this challenging procedure by the world-renowned foot & ankle surgeon, Harold Schoenhaus, DPM. Several years later, Dr. Stoddard had the fortune of being proctored by the designer/inventor of a second generation total ankle replacement system known as the Inbone Total Ankle. The designer of this ankle implant is world-renowned Mark Rieley, MD who has also designed the implant for the kyphoplasty procedure used in spine surgery.
Dr. Stoddard is trained in all FDA approved total ankle replacement systems, and has performed close to 100 total ankle procedures in the last 10 years.
The goal of the practice is to maintain a personable, warm and friendly environment for the patient. His office manager, Anne, has over 20 years of medical experience, with prior work involving running the practice of a general surgeon.
Dr. Stoddard has on-site diagnostic modalities to evaluate the bones & soft tissue structures of the foot & ankle. He performs all aspects of reconstructive foot & ankle surgery, and uses cutting-edge locking plate technology which facilitates early ambulation after procedures such as bunionectomies.